All The New Apple Fitness+ Features To Help You With Your Resolutions
For users working on their New Year's resolutions to improve their health, Apple adds a few key features to their Apple Fitness+ subscription service.
AppleFitness+ users working on their New Year's resolutions will have a few new ways to improve their health, including an all-new workout type now available on the subscription service. Apple's in-house offering centered around health and fitness debuted at the end of 2020, and it's easy to see why Apple Fitness+ would be a solid option for some users. The company has already positioned itself as a health company in some respects, most notably with the health-oriented Apple Watch. Deep integration with Apple's other products and services, as well as numerous free trial offers, made Apple Fitness+ worth a try for fitness and health-conscious users.The changes to Apple Fitness+ are marked by completely new workout types, as well as new options for familiar features, like Artist Spotlight. Apple Fitness+ debuted a kickboxing workout type starting Jan. 9 that is intended to work out a person's entire body. It's positioned as an alternative or complimentary workout to more traditional cardio routines, like running and cycling. Since kickboxing is a full-body workout, people improving their fitness in 2023 can strengthen and tone multiple aspects of their body with a singular workout now available on Fitness+.
New Meditations, Collections, & Artist Spotlights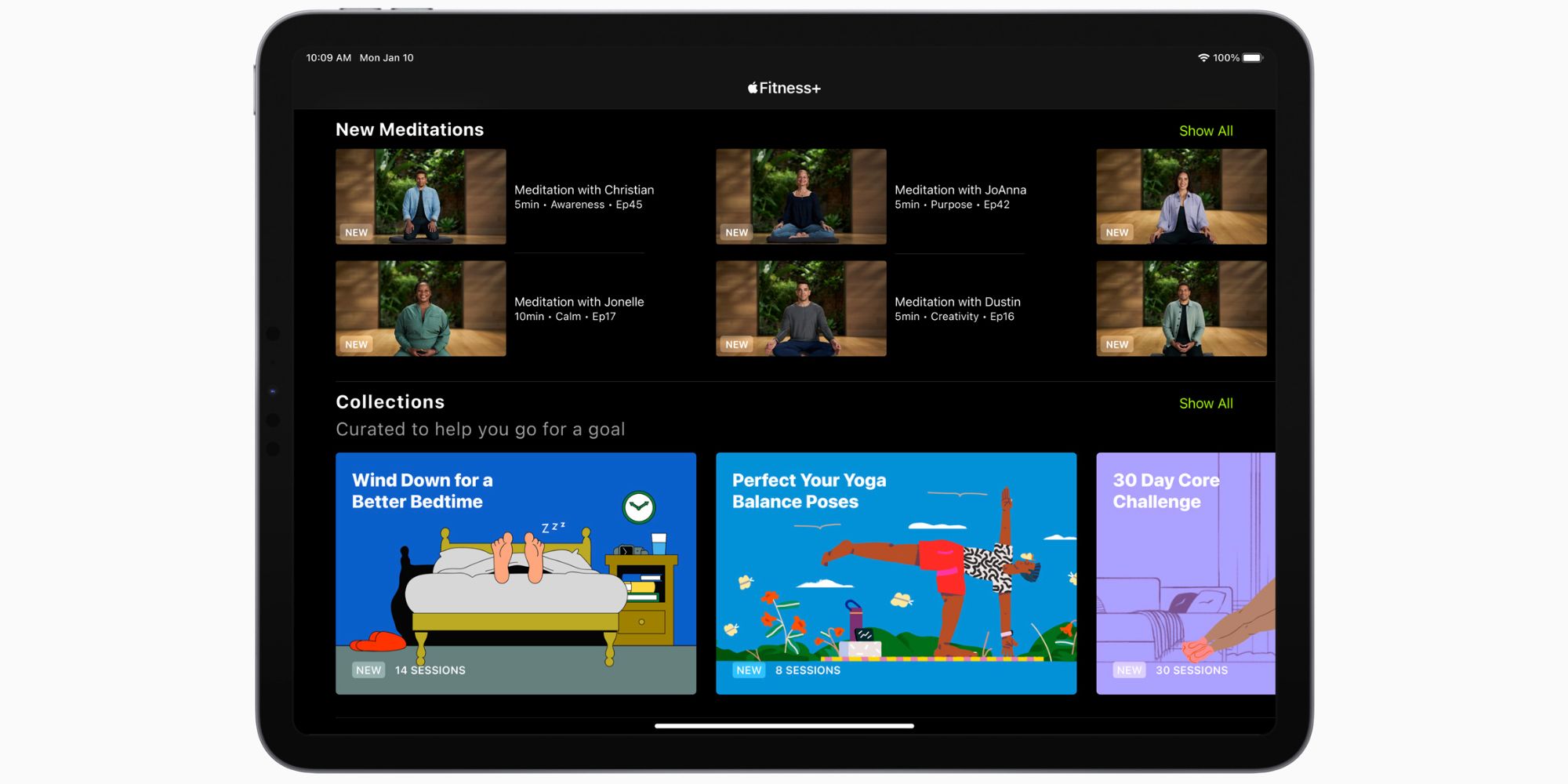 Aside from the latest workout type, Apple is adding new Meditations, Collections, and Artist Spotlights to power user goals in 2023. Artist Spotlights, which feature songs from popular musicians in guided workouts, now include songs from Beyoncé's latest album "RENAISSANCE." Additionally, new episodes in the "Time To Walk" series of guided walking workouts are now available, marking the series' fifth season.
Apple Fitness+ will add two new Collections in 2023, which are curated groups of workouts designed to help users reach a specific goal. The first Collection, titled "6 Weeks to Restart Your Fitness," is meant for users who have stepped away from a fitness-centric lifestyle and want to return to working out. For people who have neglected their core training, Apple Fitness+ is also adding a "Level Up Your Core Training" Collection.
Beyond helping users train and workout, Apple Fitness+ has Meditation themes that facilitate relaxation and reduce anxiety. The company is adding a 10th theme to the portfolio of Meditations in 2023: Sleep, which is intended to help users wind down before bed. An "Introduction to Meditations for Sleep" program will launch to get users acquainted to the new theme, and new episodes will drop each week.
Users looking to achieve their fitness-oriented New Year's resolutions in 2023 can look to a variety of Apple Fitness+ options, from new workout types, added themes, and the latest episodes in existing popular series.
Source: Apple